What are the best welding jackets?
Say what you may, but there is no denying the fact that being a welder exposes you to an array of dangers, the onus is on you to select the best welding jacket to protect you against the work-related hazard.
Prevention, they say, is better than cure, is there any better way to protect your body from wielding related hazards than by wearing safety apparels that are both affordable and effective in playing the much desired "protection role."
To effectively protect against hazards, welders must insist on welding jackets made from suitable materials which would make the jacket at least fireproof.
The best welding jackets will help you protect yourself from metal splatter and high heat which comes with welding. The use of fire-resistant and thermally insulating materials can cause serious harm if you are not equipped with the best welding jacket and gear. Here's a list of the best welding jackets you could find:
Antra WCJ-121-2XL Flame Resistant Cotton Jacket Size
There is relatively little to say about this beautifully tailored flame-resistant jacket by Antra since it is relatively a newcomer to the welding jacket market. The blue coloured jacket was made wholly of cotton. With a size of 1.72 pounds, it is very easy to carry about and has no pocket.
It is stylishly designed and affords for easy mobility while at work, it is suitable for lightweight welding tasks like stick welding and simple metal fabrication. It is also easily affordable.
It is not suitable for high-end construction work, overexposure to heat will burn through, it also offers limited protection against UV lights.
​This beautiful jacket is better used by amateur welders or welders still undergoing training this should not come as a surprise considering its price and the materials it was made from. If you a welder in training or not into serious welding work and you want a flame-resistant jacket at a pocket-friendly price, then this is for you.
Black Stallion BSX Flame-Resistant Welding Jacket
This is a 9 oz. Flame-resistant welding jacket made from treated cotton. It has a standup welder's collar with adjustable snap options so that you can adjust it to your desired neck size. It has an extended length front for maximum front coverage. Its adjustable waist straps allow you to adjust this welding jacket according to your waistline. It comes with a convenient snap front and wrists for better ease and comfort during welding work.
Black Stallion Flame Resistant Cotton Welding Jacket
This is a 7 oz. Welding jacket made from FR-treated cotton. It has a generous, comfortable fit. Its chest pockets come with flaps which provide you with storage space to keep your tools while you work. It has durable metal snaps which offer safe closure.
BSX BX9C Black W/ Red Flames Cotton Welding Jacket
This is a flame-resistant welding jacket which is designed to give you comfort and dissipate heat during welding jobs. It is tuned for high performance. It is made from FR cotton with a standup collar which keeps your neck safe from sparks and flames. It features dual scribe and inside pockets. Its adjustable cuffs and waist straps ensure that this jacket fits almost all sizes. You can wash this welding jacket whenever you like.
BXRB9C-L BSX STRYKER FR WELDING JACKET – REVCO
This lightweight jacket comes with a very eye-catchy design. Contributing to its elegance apart from its beautiful colour is its blue flame pattern which is visible on its sides and contoured body. The elegant jacket fits perfectly on the welder as he performs his welding tasks.
The jacket was designed with adjustable waist straps, and it is also designed with cuff snaps. There are also inside pockets to compensate for its lack of open packet, one of the inside pockets even has a zipper.
The jacket is sturdy and flame resistant apart from that having no open pocket makes it even safer as sparks cannot land and ignite there. The welding collar is also effective in blocking off flying sparks, and it does this in absolute precision.
The jacket doesn't cover the whole body well; it exposes the belly and back area of the body. It is only suitable for light welding work.
This jacket is very comfortable, moving up and down while on it was really easy. As beautiful and elegant it looks its use should be restricted to light MIG and FIG application.
Caiman Black Boarhide - 30 "Jacket, Welding-Apparel
This extra-large jacket was brilliantly made from boar hide and premium high-quality pigskin leather. Boar hides have been known to offer greater heat resistance to cowhide it is also cooler and affords you easier mobility while at work when compared to the cowhide.
The leather jacket features a vented back and underarms for maximum comfort, and it also features an inside pocket.
Its protective capacity is top-notch. Since it was made from boar hide leather you would naturally think it would be on the heavy side but surprisingly is of lightweight. It is a true industry fit welder jacket.
Check out Austgens CNC MACHINING
It is not pocket-friendly.
​Perhaps this is the best jacket I have ever used in a while, after buying to test run it, I tried exposing myself to hot slag and sparks, guess what? It got me well covered. Colleagues have constantly been telling me they want this exact kind if you can afford it kindly go for it. This is surely a product that offers value for money.
Hobart 770486 Leather Welding Jacket
This extra-large brown jacket was made from real cowhide split leather, it features heavy-duty stitching which joins the seams together, reinforced snaps and it is unlined. It weighs around 11 pounds and measures 15.9 inches in height, 12.6 inches in length and 3.4 inches in width.
It is suitable for almost all kinds of welding work, whether light construction, metal fabrication at the industrial level or light domestic work and construction. While on it you need not worry yourself about molten metal, spatter and sparks.
It is a little heavy mobility while it may be a bit difficult. It can also get hot while on it.
​Unlike the previously reviewed jackets made mostly from cotton that eventually gets burned when exposed to heat over a long period, this jacket stood the test of time. I have no regret buying it whatsoever. Still, the buttons cannot be removed swiftly.
Hobart 770568 Flame Retardant Cotton Welding Jacket
This Dark Gray lightweight jacket with long sleeves was made using flame retardant cotton, and it features no lining, and heavy-duty snaps providing excellent coverage. It weighs 1 pound and a size of 9.9 x 1.3 x 1.3. It also features a pocket on the inside of the jacket.
The jacket is lightweight, which affords for easy mobility, highly suitable for light and medium construction work, it is most suitable for tack welding, grinding and MIG. The price is also pocket-friendly.
It is most ideal in warmer temperatures and not colder temperatures. You cannot count on this jacket if your work will get you exposed to hot sparks as it is ineffective in deflecting them.
​Hobart has delivered yet another cotton jacket that provides reasonable protection at a pocket-friendly price. However, I have used this jacket for all kinds of welding from light-scale domestic welding to commercial welder work, and I have been protected. I will not recommend it for heavy welding work because of its cotton material.
Hobart 770569 Flame Retardant Cotton Welding Jacket
This welding jacket is made from 100% cotton. It is an imported jacket which is highly flame-retardant. It features long sleeves which protect your arms to the fullest extent. It is an ideal welding gear to be used during warmer weather.
Joyutoy One Size Cowhide Leather Welding Jacket
This welding jacket is made from cowhide split leather which is a good mix of durability, dexterity, abrasion resistance, and comfort. It should not be kept away from water because the water will deform the leather. Do not apply too much pressure on this jacket because it will lose its shape.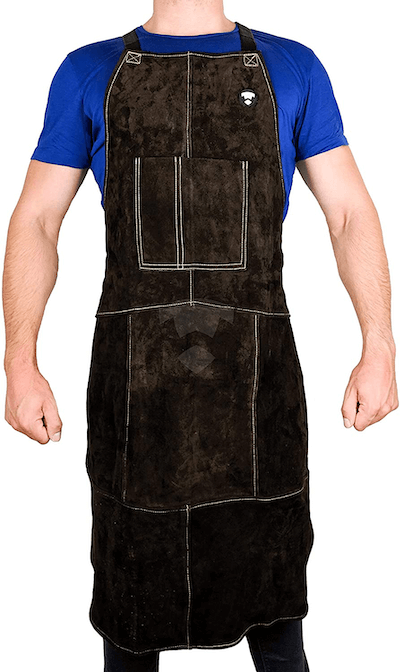 Lincoln Electric Heavy Duty Leather Welding Jacket | Ideal for High Amperage (K2989)
Lincoln Electric Heavy Duty Leather Welding JacketLincoln Electric K2989 makes high-quality welding gear & has manufactured & designed new welding equipment since 1895. Their record of innovation has kept them at the pinnacle of most reviews, & their K2989 welding jacket is arguably the best.
Lincoln welding jacket is heavy & long-lasting, capable of withstanding any probable exposure to splatter, sparks, or warmth. The front & sides of this jacket are made of hard-wearing split leather. This is why it is so great at giving an outstanding level of protection from any sparks, warmth, & spatter.
The sleeves are adaptable, and you can prefer to wear the collar down for breathability or up for further neck protection. The Lincoln welding Electric K2989 Heavy-Duty best Leather Welding Jacket is ideal for any type of welding in every season. The leather gives enough protection & warmth for welding in the coldness months without being cold or uncomfortable. Due to its mesh & cotton-lined back and the breathability it gives, you will obtain an equally pleasing experience with welding in the heater summer months.
Full Leather Front and Sides: Made from heavyweight split cowhide, the full leather front & sides give superb security from spatter, sparks & warmth.
Spatter Guard Button Liner: To get rid of sparks & spatter from entering the jacket, the front button column has unique three-layer leather, fabric design to get better security & fit.
Leather Neck Security: The Leather collar can guard your neck against arc rays, spatter and sparks.
Adaptable Cuffs: Every cuff has chrome-plated metal snaps permitting for vital wrist & arm safety from sparks, spatter & warmth.
Miller Electric 2241909 Welding Jacket
This welding jacket comes with snap buttons which offer you a secure closure on this jacket. The fold-in snaps cuff style also helps you work with ease. It is made from 88% cotton and 12% nylon. It features a standup collar for extra neck protection. It comes with an inside pocket where you can put small tools and stuff for handy use while working.
Made from a blend of cotton and nylon this pocket-friendly welding jacket by Miller Electric is the first to be reviewed. The Navy Blue jacket comes with a chest size of 50 inches and a closure type of Snap Button, this might appear to be bigger than the average, but who cares so far it can protect against heat while on the job.
The job of a welder is to weld metals and not to show fashion sense while at work.
This jacket combines elegance with comfort and affordability, and its neck collar protects the back and the neck region against molten metal, especially when working under the surface.
The jacket is designed for lightweight metal or aluminium work. As I said earlier on it is made wholly from cotton and nylon; this makes its heat resistance ability to be limited.
Check out North 110PWE Fibre-Metal Pipeliner Superglas Welding Helmet Review
Having used this jacket personally, I can confidently say it offers a great value for the purchase price. It is comfy and protective. But it must be noted it is not suitable for heavy metal or aluminium work.
QEES Genuine Leather Welding Jacket 103CM Long Heavy Duty Welding Clothes Velcro Coat Wear-resistant Anti-scald Flame-Resistant Welding Apron with Sleeves for Most Men WQ23
Made from heavy-duty genuine cow leather, this brown welding jacket offers protection to the welder up to his knee level. It was designed with a high collar, adjustable straps and double-stitched seams.
The jacket also has a large pocket to fit in some small tools which you might need as you perform your welding task. Protecting the arms and torso from welding spatter and heat.
It offers great protection at a very affordable price. The arms and the torso are well protected against welding spatter and heat. The high collar protects the neck region and to cap it all it was not made exclusively for welders. Mechanics and blacksmiths can also use it. It is also highly durable.
In addition to its somehow foul smell, it is not suitable for heavyweight welding work. Moving about in the jacket can also be hard.
​The designers of this leather jacket hold safety in high esteem, and it is safe to say that this is a perfect blend of affordability and protection. The foul smell could be neutralized by spraying deodorants on the jacket.
In a bid to clean it, you shouldn't make the same mistake I made by putting it inside the water as this kind of deformed the jacket. A little brushing will do wonders in cleaning it.
Revco BLACK STALLION BSX FR Welding Jacket
This is a 9 oz. Flame-resistant cotton BSX welding jacket with a high welder's collar to give you maximum protection against sparks. It has an extended length coverage so that it can cover more and more area. It features dual inside and scribe pockets which come handy while you are working. Its adjustable cuffs and waist straps offer you the convenience of adjusting this welding jacket to the desired size.
Steiner 1260-L 30-Inch Welding Jacket
This is a Weldlite 9.5-ounce welding jacket made from navy cotton. It features rust split cowhide sleeves which are highly durable and dependable. Its equipped with a non-reflective snap front and wrist closure. This welding jacket has a relaxed, full-cut fit, large inside pocket and leather reinforced snaps.
This brilliantly designed two-coloured jacket was made from cotton with the sleeves made from cowhide leather which provides for more protection around the arm area. The jacket has a relaxed non-reflective snap front, and wrist closure, relaxed, full-cut fit, Large inside pocket and a Leather reinforced snaps.
The jacket is lightweight, abrasion resistance, flame-resistant, anti-static and durable. You need not bat an eyelid while using it against sparks and splatter for it would protect you. Being lightweight also affords easy movement while working with it.
Based on the materials used, it seems the designers dwelled more on protecting the arm as against complete protection. There is no lining on the sleeves, which makes it quite hard to get on.
​This is no doubt an excellent product for a great price, and this jacket is best suited for stick welding or flux core MIG. It is too heavy for most standard MIG and undesirable for TIG. This is absolutely a premium jacket at a modest price. Kudos to the designers.
Waylander Split Leather Welding Jacket
This welding jacket is made of A-grade cow leather, and fire retardant cotton stitched together with flame-resistant Kevlar thread. It gives comfort with its cotton back and front. It ensures better mobility and maneuver. Its satin-lined shoulders and sleeves, adjustable cuffs and standup collar offer you comfortable and strain-free working experience. It features large interior pockets to protect personal items. It has a durable velcro front closure which ensures that the jacket remains closed securely.
West Chester IRON CAT IRONTEX 7050 Flame Resistant Cotton Welding Jacket
This flame-resistant jacket is made of 100 percent sateen cotton fabric. *Snap up jacket includes adjustable snaps at wrist for a custom fit; hook and loop collar can lay flat or be worn around the neck for added protection. The jacket features a small inside pocket useful for keeping small items.
As to be expected from a jacket made from cotton, it is lightweight, comfortable and easy to carry about. It is highly affordable and fits perfectly on the body.
The jacket was made wholly from cotton, and cotton jackets offer minimum protection against slag and UV radiation. To be on the safer side, its use should be limited to light welding work like core MIG welding. It can get a little warm on hot days.
​Here is another cheap jacket in a class of its own. I'd rather prefer it to be more elegant, and the design looks just too basic to me, I feel the designers should add a little aesthetics at least colour wise, the colour seems a little boring to me. Apart from that considering its price, I can say without mincing words that I got value for money.
West Chester IRONCAT 7005 Heat Resistant Split Cowhide Leather Welding Jacket
This welding jacket is made from a heat-resistant leather which protects you against spark and flames. It is sewn with Kevlar thread for added strength and durability. It's equipped with an outside pocket at hip and soapstone pocket on each sleeve for easy storage. This welding jacket is an ideal choice for those who work in steel mills, shipyards, manufacturing, automotive, gas welding, torch work, etc.
What is the benefit of wearing a welding jacket?
The job of a welder is a dangerous one, and a welder is at constant risk of electric shock which can be so serious as to take his life, they are also exposed to heat, sparks, metal, fumes and ultraviolet light which has been linked to cancer and other health implications.
A good welding jacket should be sturdy and made from fireproofed materials. Below we present some of the benefits of wearing a good welding jacket.
Burn Protection
There is no denying the fact that being a welder exposes you to a lot of heat which can cause burn, a welding jacket should be able to handle sparks, and spills with ease. It is not just the molten metal itself, but also the heated welding equipment, workpiece, and the hot air around a work area.
Radiation Protection
At its least harmful, this radiation can cause 'flash' burns on the skin – an injury that looks like a burn, causing the skin to redden and blister. The exposure to radiation at high scale has a tremendous negative effect on the body, and radiation occurs more frequently on exposed parts of the skin.
An effective welding jacket should leave no opportunity for the radiation to pass through the body, thereby protecting the wearer completely.
Fire protection
In case of a fire outbreak or disaster, a welding jacket being flame-retardant makes it difficult for the wearer to get burnt. Any jacket that cannot protect at least reasonably against fire is not worthy of being called a welder jacket.
Being secure during welding is very significant. The best welding jacket defends your arms, torso, & even your neck. Hence, it is an important addition to your protective tools. As there are different kinds of welding jackets & a variety of brands in the marketplace, it can be difficult selecting the exact welding jacket.