Laser Cutting Service
If you need online laser cutting we are one of the most capable and affordable sources in Melbourne and we can get the job done right.
About Laser Cutting
Laser cutting produces part shapes by cutting sheet material using an intense laser beam.  This cutting method uses a beam of high-density light energy focused through a tiny hole in a nozzle. When this beam strikes the surface of the work piece, the material of the work piece is vaporized.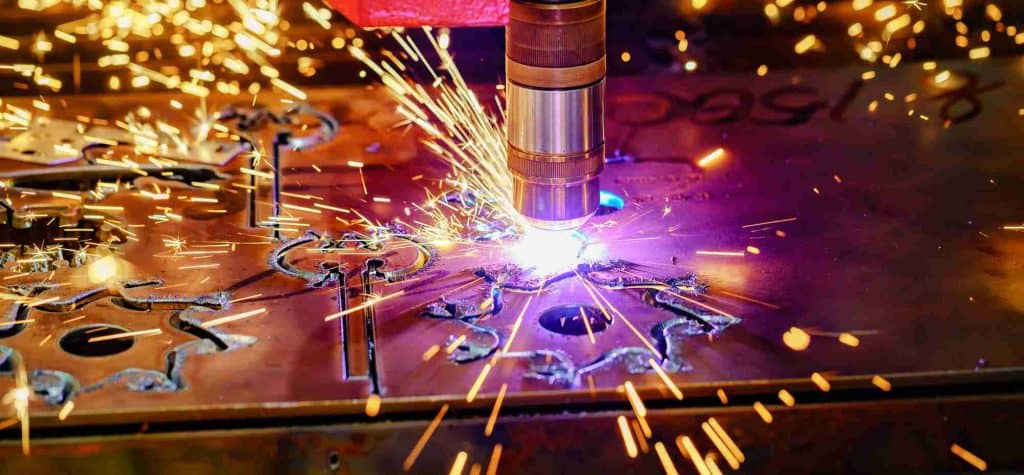 Laser Advantages
The process offers low cost for prototype and short runs since no physical tooling is needed. Heat distortion is minimal and typically limited to about 10% of material thickness. Cut parts generally remain flat. Lasers leave minimal burrs.
Shapes
Cutting with a laser can produce almost any 2D shape including cutouts for parts such as enclosures, cams, brackets, decorative items, holders, mechanisms, etc.
Materials
Several materials are applicable. Aluminum can be laser cut but requires a higher power more expensive laser. Stainless steel, plain steel and spring steel are highly suitable. Metals such as copper alloys are difficult due to their ability to reflect the laser light and absorb heat. Many plastics are problematic due to toxic fumes.
Design Considerations
Sharp inside corners of the part may have a slight rounding due to beam radius of approximately 0.02 – 0.04″.
Edge burrs are usually minimal and deburring of edges is usually not necessary.
Thin flimsy structures, such as shapes where a high percentage of material is removed and long slots may experience some warping.
Custom Machining
If you need custom mechanical parts machined – Ausralian General Engineering would be pleased to quote your job using conventional CAD files.
Precision Laser Cutting Services in Melbourne
The team here at Australian General Engineering can provide you with both high-quality and high-speed results for all your metal CNC laser cutting requirements.
Laser Cutting and More
For easy identification of your components, laser marking and laser etching are also carried out using our Bystronic  laser cutter. This reduces the need for a further operation that was traditionally done by stamping or engraving.
We utilise a state-of-the-art, Swiss-made Bystronic 5200W CO2 laser cutting system with transfer processing table and automated sheet loading to reduce costs and increase output. Using this high grade equipment, we provide quality precision work with efficient turnaround times.
Materials typically cut on our Bystronic  5200W CO2 include:
Mild steels up to 20mm
Stainless steels up to 16mm
Aluminium up to 10mm
Our CNC laser cutting service is only one part of our sheet metal engineering and fabrication capabilities. At our facilities in Melbourne and Vietnam, we provide a broad range of sheet metal and general fabrication services.
These include:
CNC turret punching
CNC brake press folding
CNC milling and turning
Mig and Tig Welding
Tube bending
Various other fabrication services
For the consistent production of accurate parts that meet tight tolerances, you can rely on the team here at Australian General Engineering for your entire CNC laser cutting services.
Expert General Engineering Services in Melbourne
Since our inception, Australian General Engineering (AGE) has grown to a market-leading sheet metal and general metal fabrication service provider/manufacturer in Melbourne
Working with fabrication and logistics facilities of over 4,000 m2 in Melbourne and very similar in Vietnam, we are ultimately set for boosted engineering requirements. With high-efficiency machine tools, 'lean' focused manufacturing processes and an exceptionally flexible production team, we have a strong emphasis on achieving 'delivery in full on time' (DIFOT).
We have expanded our operations in Vietnam allowing us to supply our Australian customers with more cost-effective options for our services while maintaining the high quality demanded by our market sector. Quality assurance, production methods, and all aspects of the business in Vietnam are also controlled by AGE in Melbourne.
A Wealth of Metal Fabrication Experience in Melbourne
Our Melbourne based qualified and dedicated management team are professionals that have come from diverse industry backgrounds. This provides us with the skill set to not only comprehend your requirements but also to exceed your expectations.
We consistently meet the requirements of a diverse and sophisticated market with organisations such as the Australian Department of Defence, Original Equipment Vehicle and Component Manufacturers (OEM), and various others in the government, private, and public sectors.
With a continual improvement approach and commitment to achieving the greatest possible standard in client satisfaction, Australian General Engineering is focused on delivering the highest quality products, on time and at market competitive rates.
Our Sheet Metal and General Fabrication Services
Here at Australian General Engineering in Melbourne we have established ourselves as a market leader, and pride ourselves on providing our clients with tailored services such as:
- CNC Laser Cutting
- CNC Turret Punching
- CNC Metal Folding, Rolling and Pressing
- CNC Machining
- CNC Robotic Mig and Tig Welding
The Melbourne team focuses on effective production processing and adheres to 'lean manufacturing' practices. We incorporate our latest in-house technology production equipment, MRP software, dedicated administration, and customised warehousing facility so that we can manufacture economically, and maintain stock for immediate availability.
The sheet metal and fabrication services we offer at our Melbourne and Vietnamese facilities include:

- CNC Laser Cutting
- CNC Turret Punching
- CNC Brake Pressing/Folding
- Cutting services using Band Saws, Guillotines, Shears, and Cold Drop Saws
- Metal Rolling
- MIG and TIG welding
- CNC Machining
- CNC Tube Bending
- Metal Spinning
- CNC Pressing and Stamping