Top 3 Best Welding Aprons And Bibs (Leather & Non-Leather)
It's essential to ensure that you protect as much of your body as possible while welding, to avoid burns and other harmful scrapes.
That's why a good quality welding apron is such a good idea; not only will it protect the front of your body, but it usually extends down to protect your legs, as well.
The best welding aprons will feel sturdy and protective; they should have adjustable straps to hold them in place securely; they should be quick and easy to take on and off. Luckily, we've scoured the market to find nine of the best welding aprons that fulfill all these criteria!
The Good

Whether you're large- or small-framed, tall or short, you'll find that this apron fits really well. This is because it features adjustable straps and a long length so it will hold securely in place while protecting the whole of your front. It's been stitched with nice thick thread and reinforced at all the major stress points, so this apron is incredibly durable.
The smart, cross-back straps design is way more comfortable than your typical around-the-neck-straps work aprons for men & women. Its design distributes the weight evenly and the removable shoulder Pads make the cross-back apron so light you even forget you have it on!
On top of all this, Makara has included 6 strategically placed pockets, 2 heavy tool loops and 1 towel hanger with a metal ring. These are EXTREMELY convenient and we personally love welding aprons that include pockets.
The Bad
Leather-lovers won't be satisfied as while this apron is durable, it is not made of leather.
As such it's not really suitable for heavy-duty welding (if you're doing heavy-duty welding, check out the Waylander Leather Welding Apron instead). But if you only intend to use it for light-duty welding, then the Makara welding apron will be more than adequate!
Conclusion
If you're looking for a versatile, durable welding apron at a great price – then this is the welding apron for you. It's extremely comfortable and has a bunch of pockets – perfect for daily use. It can also be used as a woodworking apron!
You can check the price of this welding apron here.
The Good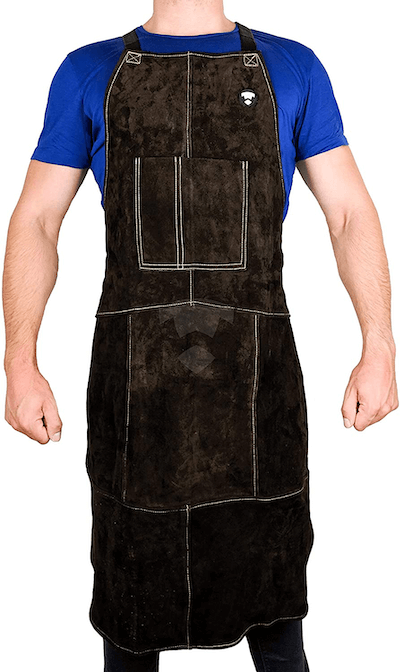 Many leather products (including welding aprons) can't stand up to the elements all that well, but this split cowhide apron is a beast – it's weather-resistant and extremely durable.
As a result, it is suitable for use outdoors, even in damp conditions. Not only is it durable and protective against heat, spatter and flame, but it also feels durable and well made.
This gives you a strong sense of security and protection when you're wearing it. Waylander has made the apron with adjustable straps to ensure that it always fits well; these straps also provide that the weight of the apron is evenly distributed, which makes it remarkably comfortable to wear over long periods. Your shoulders will feel noticeably less tense and sore after a full day of welding!
The Bad
Although it does have adjustable straps, this apron only comes in one size. As a result, larger frames might find it a bit tight or the straps marginally too short.
Top Features:
ULTIMATE PERSONAL PROTECTION - From knees till upper torso, designed to protect your body against sparks and splatter. Made of strong and high-quality fire-resistant leather.
HIGHEST LEATHER QUALITY - Carefully selected split cow leather to guarantee safety and comfort for long and intensive work in hard conditions.
ERGONOMIC DESIGN - Crossed back strap harness for perfect fit and weight displacement. This apron fits well for everybody. 2 buckles make it easy to put on your own.
Conclusion
Overall, this is a solid, well-made leather welding apron that will keep you well protected from both the elements and dangers associated with welding. We highly recommend the Waylander leather welding apron for those who want a premium welding apron to last them for many years to come. If you're specifically looking for leather, this is without a doubt the best leather welding apron on the market.
You can check the price of this welding apron here.
The Good
This apron is made from flame-retardant cotton so you can be guaranteed good protection from heat and sparks. However, as it's not leather, it's also very comfortable and lightweight to wear, which is something that you'll really notice after you've had it on for long periods of time. The waist strap is elastic as well as being adjustable, a feature that makes it so much more comfortable than the waist straps on many other welding aprons.
It always feels like it's held in place securely, which is really important when it's so quick and easy to take off and on. Although this apron is ideal for welding, it's also suitable for a wide range of other uses too – both inside and outside the workshop.
The Bad
This apron is unlined. This might be an unattractive feature for some, but on the plus side, it does reduce the weight significantly, meaning that this apron isn't as heavy as most others that are lined. However, this thin, lightweight nature says that it isn't really suitable for heavy-duty welding or extremely high temperatures so there may be limitations on how much you can actually use it.
Also, several wearers have found the neck strap to be too long, while others who have larger frames find that as it's one size fits most, it's a little too tight.
Conclusion
This is an impressively cool, lightweight apron for light-duty welding.
You can check the price of this welding apron here.
Revered for its strength, versatility and value, steel and its derivatives have been one of the most widely used materials in construction (among other industries) for centuries. However, the implementation of iron in the building would not be possible without the involvement of steel fabricators. What do steel fabricators do? Let's take a look.

Any industry that deals with metal requires fabrication, and without the work of steel fabricators, the implementation of steel would not be possible. Here's a rundown of what fabricators do.
The Craft of Steel Fabricators
In essence, steel fabricators use a variety of techniques to turn central steel sections into predefined shapes, ready to be implemented in construction. Fabricators work closely alongside steel detailers and drafters, who provide detailed drawings and designs which fabricators essentially bring to life. This requires a keen eye for details, an array of tools and techniques, and an extensive knowledge of the properties of steel. Steel products need to arrive on site ready to install and thus need to be manufactured with full precision by the steel fabricator.
Steel Fabrication Processes
The processes that steel fabricators use have come a long way since steel was first harnessed for mass production in the 17th century. This is due mostly to considerable advances in computer technology such as Computer Numerical Control (CNC) systems which monitor and control the movement of machines that fabricators use such as routers, welders and laser cutters. 3D modeling has also made it easier to visualize even the most complex components.
Here are some common manipulation techniques used by steel fabricators:
Shot blasting
Shot blasting is the process of blasting steel sections with a shot (small steel beads) to remove any impurities, preparing the metal for fabrication. The main reason shot blasting is necessary is to provide a clean finish that will be easy to weld as well as a rough surface that will accept paint. It is a crucial technique in a variety of industries including construction, auto and shipbuilding and the production of various steel structures like pipelines, silos, and tanks.
Fairly self-explanatory, steel cutting in the process of cutting up steel sections before fabrication so that they are easier to work with, or cut down to size for customs purposes. Steel sections are cut using some techniques including flame cutting, plasma cutting and cutting with a circular saw.
Metal Bending & Rolling Services
Modern applications of steel in modern architecture and construction require more intricate steel shapes and elements. Fabricators can achieve this by using some tools and techniques. A typical example is to pass a steep section through a roll bender numerous times until the required arc is completed. Press braking can be used for more straightforward bends involving lengths of steel up to 12 meters long.
Steel fabricators are master welders. Welding employs high heat to melt the parent material with whatever is being attached. When the weld pool solidifies, the two elements then are fused together. It is a technique that is ubiquitous in steel fabrication.
Steel often requires a coating for both practical and aesthetic purposes. Galvanisation, which is the process of coating the steel surface with zinc to hinder corrosion, is a standard process. Custom colors and looks may also be requested by an architect which requires coating with paint. This usually happens at the end of the fabrication process.

Who Uses Steel Fabricators?
Any industry that uses metal will no doubt require the services of a steel fabricator. Typical industries that require steel fabrication:
• Construction
• Shipbuilding
• Auto manufacturing
• Mining
• Civil infrastructure
The following are just some of the many products that are commonly fabricated:
• Universal Beams
• Universal columns
• Bar Joists
• Platforms
• Ladders
• Pipe racks
• Trusses
• Grating
• Skids
• Custom steel projects
If you are in need of quality steel fabrication contact Steel Fabrication Services today. Our team of experienced and knowledgeable professionals will ensure that whatever you need will be fabricated to the highest standards, according to your specifications, and delivered when you want and need it.
A similar blog post we wrote:
Australian General Engineering is a Melbourne based General Engineering business that provides a comprehensive range of complete sheet metal fabrication Services