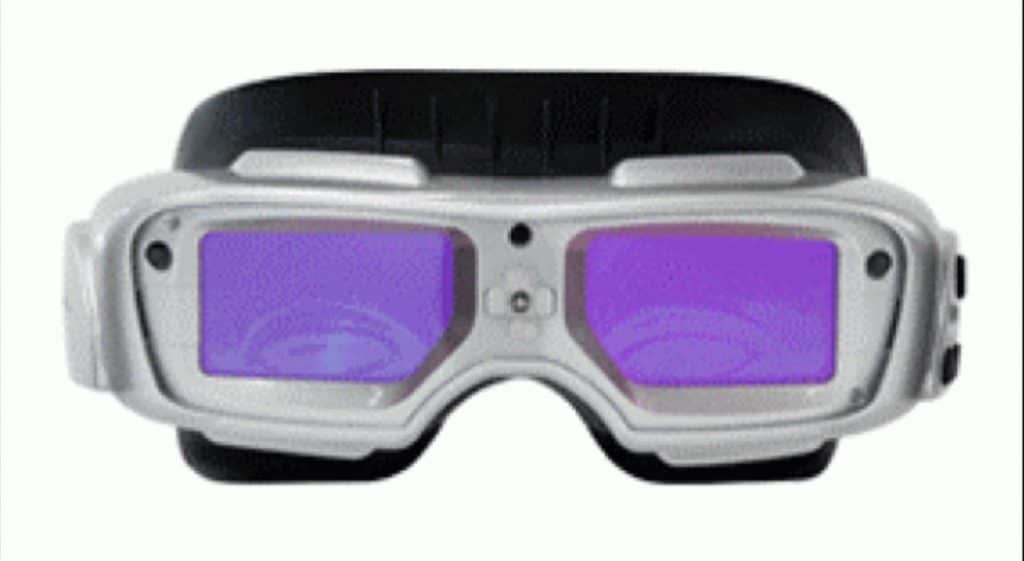 Why do welders wear glasses?
Have you ever had your eyes burned by the welding arc rays? Was it because you didn't wear safety glasses at work? Or did you weld without a welding helmet? Regardless of the reason, if you got an arc burn, you better be ready for a very unpleasant night. If you burn your eyes at work, you will probably wake up in the middle of the night feeling like you have sandpaper in your eyes. If you open your eyes, it will hurt. If you close your eyes, it will hurt even more. Think eye drops will help? Get ready for more pain. Unfortunately, there is very little you can do to help with this other than suck it up and wait it out.
If this does happen to you, go to your freezer and get some frozen peas or some other frozen vegetable and place it over your eyes. This will provide a bit of relief. After 2 to 3 hours of this, you may fall back asleep from pure exhaustion and, if you're lucky, you'll feel better by the time you need to go back to work the next morning.
It still amazes us the number of fabricating shops we visit in which eye protection is not mandatory. However, what's even crazier is that we as individuals still choose to tack, weld, grind and cut without eye protection. Regardless of your employer's stance on safety, you must always take care of yourself. More than likely, several people at home depend on you, so do the responsible thing and be safe.
We all know safety glasses are not worn for fun or to make a fashion statement. We wear them to protect our eyes from flying debris, grinding dust, welding spatter and sparks, and ultraviolet radiation from the welding arc.
However, wearing safety glasses can be uncomfortable. They get scratched up, and it makes it hard to see. They get foggy making it necessary to take them off constantly to wipe them down. Maybe they bump against your welding hood. All of these things are annoying but not as much as missing work to go to the emergency room. If your safety glasses have any of these issues, spend the $3 to buy another pair. Most employers provide these for their employees and may only cost you a 2-minute walk to the supply room.
It is important to note that when welding, you must still wear your safety glasses under the hood. The welding lens shade, if adequate for the type of welding being done, should provide all the protection needed from the harmful UV rays generated by the welding arc. But, if debris goes inside your helmet, not having safety glasses can cost you. Welding spatter from your arc, or your co-workers' arc can always get inside your helmet. Protect your eyes by always welding with safety glasses.
Do you like to tack weld with your hood up? Or without a hood altogether? If all you are doing is tacking it is still necessary to wear a welding helmet. If you think you are saving time by doing this, think again. If you weld without a welding hood you are risking damage to the cornea by the UV rays. If you go a step further and weld, even tack weld, without glasses, it's just a matter of time before you lose an eye.
To ensure workplace health and safety, both employees and employers need to recognize hazards and prevent accidents. This is especially true for those who work in welding. Welders face a range of work-related hazards daily, from dangerous fumes to burns from harmful bright light or molten metals.
One way to keep welders safe is the proper use of personal protective equipment (PPE). All welders and their employers should know the best safety practices related to eye and face protection for welding.
What are the best safety practices in protecting face and eye?
Standard welding PPE includes welding helmets, face shields, goggles, and safety glasses with side shields. All these are used to protect the welder's eyes and face from the high-intensity light, sparks, and spatter produced by most welding operations.
Welders need to inspect their eye protection before each use. They should replace lenses that are too scratched to see through. Safety glasses with cracked or pitted lenses may shatter easily. They also should replace goggle straps that are knotted, twisted, or stretched out.
Check out Austgens METAL ASSEMBLY
Because they are considered secondary forms of eye protection, face shields and welding helmets must be worn with goggles or safety glasses with side shields. One form of eye protection is not enough. If a welder doesn't use safety glasses with side shields, a flash burn from the ultraviolet rays can result.
Goggles should be vented to reduce fogging of the lenses as much as possible. Specially designed chemical goggles are the best choice for welders if dust, fumes, mists, gases, or vapours are present.
On most protective eyewear, filtered plates keep out harmful radiation such as ultraviolet or infrared light that can burn the eyes and lead to blindness. It's important to choose the correct filter shade to regulate the amount and type of light that reaches the eye. As a rule of thumb, the welder should start with a shade that is too dark to see the welding zone and then gradually find a lighter shade that gives a sufficient view of the weld zone without going below the minimum shade number required for the task at hand.
These filter plates are numbered, with a higher number indicating the filter plate is darker, and thus able to filter out more visible light. These numbers are additive; for example, a welder using a No. 10 filter plate in a welding helmet and No. 4 filter lenses in goggles or safety glasses will have protection equivalent to a No. 14 filter plate. A lens shade selector chart (F2.2-89R), available from the American Welding Society (AWS), can help welders select the proper filter shade for a given application.
Safety glasses must fit well to be effective. They should be snug on the bridge of the nose, with the temples adjusted to keep the centre of the lens in front of the eye. The straps of safety goggles should fit snug and low on the back of the head.
Welders who wear prescription eyewear can use either prescription safety glasses or safety goggles over their prescription glasses. However, welders working around high-voltage electricity should not use any type of metal eyewear. Contact lenses are discouraged in dusty areas or where certain types of chemicals are present.
After use, eye and face protective equipment should be wiped clean of dust and dirt. Some lens-cleaning solutions are designed not to damage special coatings. Clean eyewear should be stored in a closed container, protected from dust, moisture, direct sunlight, heat, and other elements that may reduce its effectiveness.
Attention to worker safety is an integral part of good business practices. Personal protective includes tools, barriers, signs, and much more. And, while it welder seem to be just one aspect of overall safety in the workplace, the importance of occupation safety eyewear cannot be overemphasized. Many professionals, doctors, glass workers, construction workers, perform daily functions that put their eyes at risk. Welders, in particular, face the serious risk of eye injury or conditions caused by exposure to flying particles, fumes, or radiation.
Welding produces visible light, which can be harmful, as well as invisible rays, including ultraviolet (UV), and infrared radiation (IR). Invisible radiation, though out of sight and therefore, out of mind, can cause damage without the worker immediately realizing it. Sometimes the damage might not become evident until years later. In general, people are exposed to radiation every single day, from the sun, light bulbs, microwaves, etc. However, welding poses a greater risk of health problems because of the intense concentration of light as well as the frequency of exposure because of the job. When it comes to the work hazard of welding, it's not just welders who are at risk; employees who work in the general vicinity can also be exposed to potentially damaging light.
While it's important for workers to be protected from dangerous exposure to light, welding lenses and goggles actually provide multiple layers of eye protection. They also shield the eye from various hazards such as heat, sparks, and debris. However, lenses and goggles aren't sufficient for all types of welding. Arc welding, for example, might require a full facemask. To make sure that welders are kept safe, the US Occupational Safety and Health Administration (OSHA) (1910.133(a)(5)) requires:
"The employer shall ensure that each affected employee uses equipment with filter lenses that have a shade number appropriate for the work being performed for protection from injurious light radiation."
Shielded metal arc welding, gas metal arc welding, and flux-cored arc welding require filter lenses with a minimum protective shade of 7, the highest required minimum being 11. Carbon arc welding requires a minimum of 14 shade. Gas welding requires a minimum shade of 4.
They recommend that, when choosing lenses, you start with a shade that is too dark to see the weld zone. Then go to a lighter shade which allows a sufficient view, while still meeting the minimum requirement.
If proper protection isn't worn during welding, various conditions can result. One of these conditions is a painful eye condition called photokeratitis. It's also commonly known as snow blindness and arc eye. According to the American Academy of Ophthalmology (AAO), "photokeratitis is like having a sunburned eye". It affects the cornea, which is the clear front part that covers the iris and pupil, as well as the conjunctiva, which lines the inside of the eyelids and covers the white part of the eye. Although the damage from photokeratitis isn't permanent, it is very painful and irritating, and part of the treatment might be to avoid bright lights for a period of time, which could mean not working temporarily. The severity of the symptoms depends on the length of exposure. Symptoms include: sensitivity to bright light, seeing halos, pain, blurry vision, red eyes, teary eyes, headache, swelling, and grittiness, or the sensation of sand being in the eye.
Check out Galvanized Sheet Metal Fabrication in Melbourne
If workers' eyes aren't properly protected, they also run the risk of getting cataracts. This is when the lens of the eye, which is normally clear, becomes clouded. Symptoms are cloudy vision, frequent changes in eyewear prescription, double vision, and sensitivity to light. Currently, the only effective way to treat cataracts is by having surgery. How much better to prevent this condition, if possible, by wearing the proper eye safety protection while welding.
As mentioned earlier, welders aren't the only workers potentially exposed to hazards that come from welding. There is a risk to others who enter the area temporarily. Some companies use a shielding curtain to protect non-welders from the hazards particular to welding. However, depending on the circumstances, this may not always be optimal or possible. Also, some welding work might require consultation or review by others so that close exposure might become absolutely necessary. In these cases, clear polycarbonate lenses, that meet the American National Standards Institute (ANSI) Z87.1-2003 standard, might be the protection of choice. These can shield workers temporarily in the area from flying particles as well as a significant amount of UV light.
There are many options available to protect welders and others from light, fumes, flying particles, and slag. However, optimal protection is usually gained by using UV blocking lenses or goggles along with a face shield or helmet. While the face shield itself should be shaded, since welders often lift the face shield, the spectacles worn should have the filtering needed to protect the eyes from the intense UV and IR light.
In general, OSHA has comprehensive requirements when it comes to Personal Protective Equipment. They cover areas such as the sanitary and reliable condition of equipment and the employer's responsibility when employees provide their own equipment. They also give direction regarding communication with employees affected by hazards, as well as training to use equipment properly. Additionally, they require that, if an employee wears typically prescription glasses, that the Personal Protective Equipment either include the prescription or fit properly over the prescription glasses.
According to US government agencies, there are approximately 2,000 eye injuries on the job each day due to not wearing any type of eye safety equipment or wearing the wrong kind needed to do the job. In the case of welding, most of these injuries are caused by arc and heat rays and flying debris like dirt and metal. To avoid injury or blindness on the job, it's not enough to just wear eye goggles, face protectors and welding helmets, and you must make sure you're wearing the right ones. The American National Standard Practice for Occupational and Educational Eye and Face Protection lays out the safety requirements that all welding eye protection equipment should abide by (known as ANSI Z87.1) and addresses these three things you need to look for in your welding equipment.
What are the correct lens colour and filter shades?
While flying debris is a major safety concern, your eyes must also be protected from workplace dangers like radiation, strain and fatigue. Wearing goggles, shields, or helmets that have the correct lens colour for the welding work you're doing can prevent these types of injuries. For example, a clear shade works well for general indoor work where impact protection is required. Gold, blue and silver mirror shades protect eyes from glaring sunlight by reflecting and reducing the amount of light that comes through. For low light work, use amber-coloured safety glasses or goggles.
Check out What is metal fabrication and where is the industry headed?
In addition to the lens colour, protective eyewear should also have the correct filter shade number to protect eyes, particularly from radiation. Lenses with the low shade numbers like 1.5 are ideal for torch soldering welding. Those with higher filter shade numbers like 15 should be used for electric arc welding. In general, the higher the number, the less radiation that will pass through your welding eyewear.
What should be the right fit for welding?
Lens colour and filter shades won't mean much if the eye-protective wear itself doesn't fit properly. Make sure the safety glasses you choose sit firmly on the top of your nose and won't slide off due to sweat. They should also be close to your face. If they're too tight, it will create large gaps at the corners, leaving you susceptible to injury. Be sure that the glasses don't touch the bridge of your nose or behind each ear (known as a three-point fit). As for helmets, make sure the fit is snug enough that it will stay on whether it's pulled up or down.
Many beginner welders don't realize the damage that can be caused to the eyes by not wearing sufficient welding safety equipment. The welding arc produces harmful radiation which can damage the eyes and cause the unpleasant "welders flash." Safety glasses are a way of blocking out UV light and infrared wavelengths emitted from the welding arc. Welding glasses are great because they also protect the eyes from any flying debris and can help reduce irritation from fumes.
What are the welding lens shade numbers?
The most important thing to consider when choosing your welding glasses is its shade number. Welding safety glasses come in a variety of shades. The shade number is an indicator of the darkness of the lens, and there are different shades recommended for different types of welding, and the amperage used. Some welding processes produce a brighter arc than others, so these require a higher shade number. Other types of welding require a lower shade number so that it's not too dark to see the weld pool. As a general guideline, torch brazing and soldering should look at a minimum shade 3, SMAW/Stick welding should be 8-12 depending on the amperage, GMAW/MIG and GTAW/TIG should be minimum 8-10, carbon arc welding should be minimum 14. The Occupational Safety and Health Administration (OSHA) have detailed a chart which lists the full specifications for each type of welding and the appropriate shade. Also, check out our guide on welding helmets for further eye protection advice.
Auto-darkening welding glasses are a relatively new piece of technology but are a brilliant option for welders. They're a more lightweight option than a welding helmet that allows you to get into restricted spaces with greater ease. If you're concerned about the burning your face when wearing these, then you can additionally purchase the Servore faceguard that is compatible with the safety goggles.
These glasses range from shade #5 to shade #13, and the controls are simple to use. On the side of the glasses, there is a shade control button and a sensitivity control button to easily adjust settings. The field of vision is pretty wide, and they react really quickly and accurately to changes in light. You can't wear these with prescription glasses, but they include a frame that allows you to get your own lenses fitted into them.
The frame and lens are also designed to be shock and heat resistant for added durability. The strap and compact size make it a snug fit, but there is still good airflow through its air vent system.
They are a lot more expensive than the other welding glasses, but you're paying for a top of the range pair of safety glasses that you'll be able to use for all of your jobs around the garage.
One final note, if you are in a welding shop, you must always wear safety glasses whether you are welding or not. The reflection of the arc against surfaces such as walls, screens, stacked steel, welding equipment and other surfaces can make the rays reach your eyes. You may not see it, you may not feel it, but if the rays are hitting the side of your eye, you can certainly get arc burn.
Hopefully, by now, you are convinced that you should always wear safety glasses under your welding hood. But what about the shade number of your welding lens. Does it matter?
There are different shades used for welding. Shades 9-13 are the most popular and the usual choices for in most welding helmets. Automatic welding lenses now have the ability to switch the shade with a simple knob or push button. So whether you are welding GMAW in spray mode or cutting with oxy-fuel, you should have the option to select the appropriate shade.